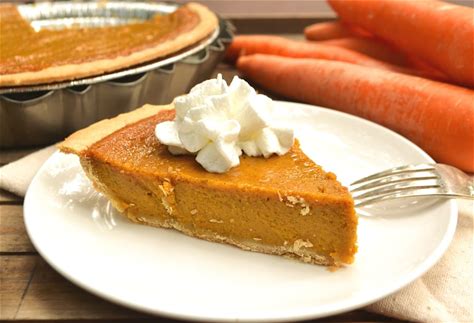 This tasty recipe is brought to you by: FoodEdmonton.com
1 hr 30 min · 222 cals · 8 servs
If you're a pumpkin pie lover, I know you're going to love this carrot pie, because it's so sweet and perfectly spiced and it'll melt in your mouth. Plus it's so fun and it's easy to make. My mother 'Louise' use to bake this all the time when I was a young boy and it was one of my favorites.
RECIPE
Ingredients
Pie Crust (pre-baked and cooled 9″)
1 ½ pounds Carrots
2 tablespoons Butter (softened)
½ cup Sugar
½ cup Brown Sugar (packed)
2 Large Eggs
1 ½ teaspoons Cinnamon
½ teaspoon Nutmeg
½ teaspoon Salt
¼ teaspoon Ginger
1 teaspoon Vanilla
¾ cup Half And Half Cream
1 tablespoon Flour
Directions
Peel and chop carrots and place carrots in a large pot, cover with water, and bring to a boil.
Reduce heat to medium and simmer until carrots are tender about 25 – 30 minutes.
Puree the carrots and butter until smooth. You can do this in a food processor, blender, or by hand if you enjoy
the workout. I've done it both ways. When your carrots are smooth, mix in the sugar, eggs, cinnamon, nutmeg, salt,
ginger, vanilla, half & half cream, and flour until well combined.
Now pour your mixture into prebaked & cooled 9″ pie crust. Bake at 350° for 50 – 60 minutes or the pie is set and a toothpick inserted in the center comes out clean.
Cool on a wire rack or cutting board. Refrigerate for 1-2 hours before serving. Top with whipped cream and enjoy!