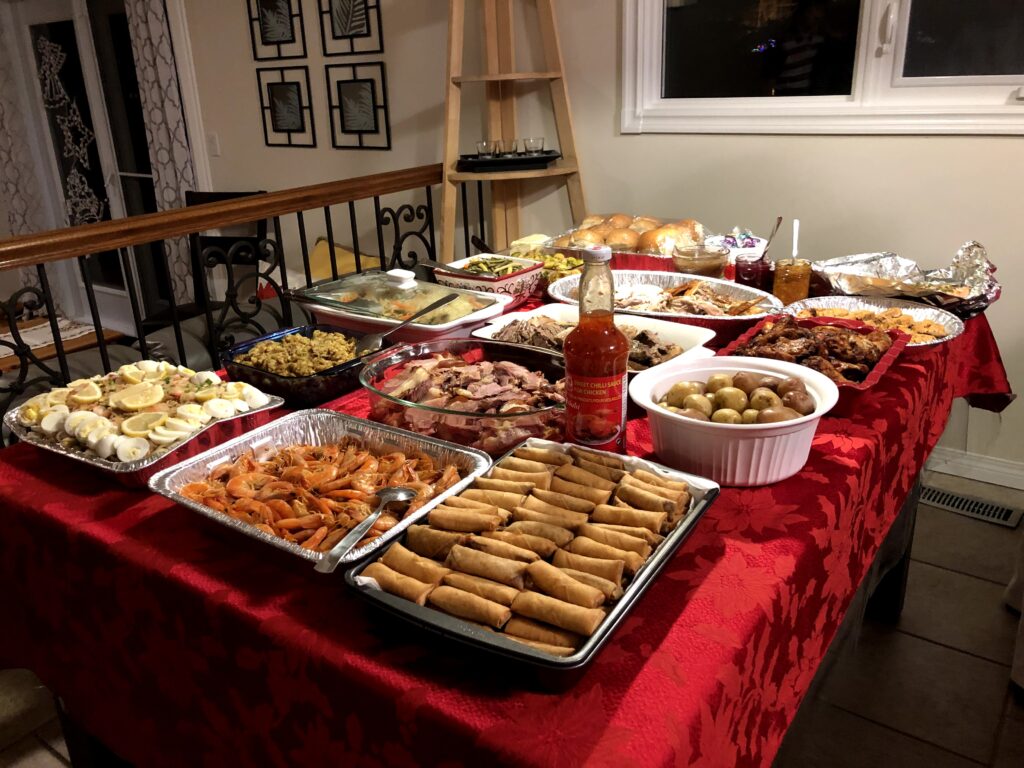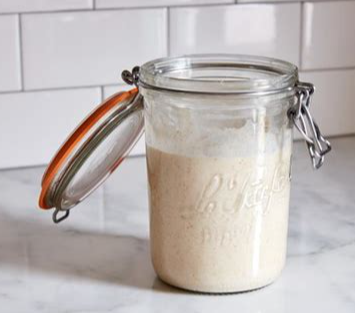 OK.do you want to learn how to make a really good sourdough starter?.
Of course you do. Who wouldn't want To learn how, then you can start to
make some fantastic sourdough bread.
OK, let's get started.Here are the ingredients and The equipment you'll need.
To make a sourdough starter, you need:
Flour: all-purpose or whole wheat
Water: filtered or bottled
Time: at least 7 days
Two glass jars with loose fitting lids.
Rubber spatula.
large bowl
Rubber bands.
Instructions:
Mix equal parts flour and water in a large bowl until combined.
Cover the bowl with a cloth and let it sit at room temperature (about 70°F) for 24 hours.
On the next day, discard half of the mixture and add equal parts flour and water to the remaining mixture. Stir until combined.
Repeat step 3, feeding the starter every 24 hours, until it becomes bubbly and has a sour smell (this usually takes 7-10 days).
After 7-10 days, your starter is ready to use. Keep it in a lidded container and store it in the refrigerator, feeding it weekly with equal parts flour and water.
Note: You may need to adjust the ratios of flour and water based on your climate and the temperature of your kitchen. Good luck, I know you can do it. When you have the time. Please let us know. How your sourdough bread turned out.
This recipe was brought to you by: FoodEdmonton.com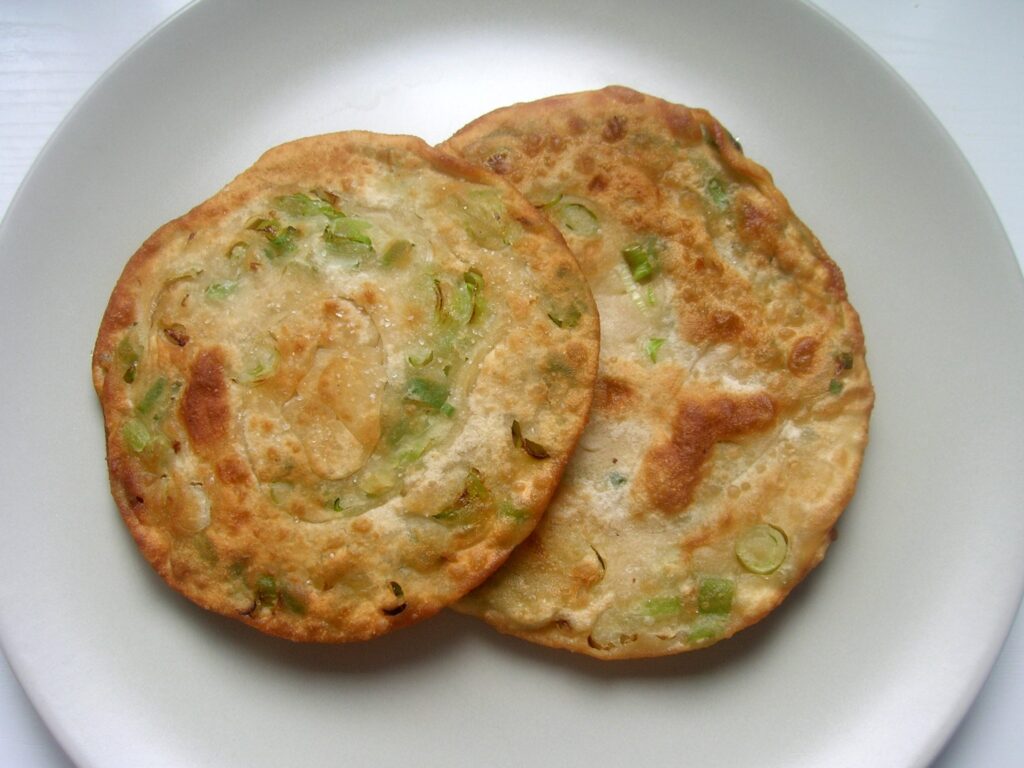 Green Onion Cakes
2 1/2 cups white flour
1 cup warm water
1 teaspoon baking powder
1/2 teaspoon sea salt
1 teaspoon onion powder,( Not onion salt!)
1/2 teaspoon garlic powder,( Not garlic salt!)
2 teaspoons olive oil
1 bunch of green onions chopped
Vegetable oil for frying
Mix the flour, salt, oil, and a little water together. Slowly add more water until dough forms a ball. Knead it slowly while mixing in the green onions,
and until it becomes smooth, let it rest under a damp cloth for two hours.
Roll the ball of dough out on a floured surface (add more flour as you go, so your dough doesn't stick to your surface) about 1/8 thick. Be careful not to tear the dough.
Now the real fun begins. Find a round container about 3 to 5 inch's, I use an old margarine container, you could even use an old soup can; they'd make fun little green onion cakes. What ever you choose, use these ideas I've shared with you to
stamp out your green onion cakes.
Now you're ready to cook them up. Heat up a Wok or a deep skillet over medium heat with 1-1/2 cups of vegetable oil or olive oil, I myself prefer a Wok, Now One at a time, fry the green onion cakes until each side is golden brown. Remove and let cool on a paper towel covered plate.
These tasty green onoin cakes go great by them self, or as an addition to an asian meal.
Here's some ideal sauces to ad some zest to your tasty green onoin cakes.
Sweet chili sauce
Hoisin sauce
Sriracha hot sauce
Kikkoman soy sauce
Brought to you by: #FoodEdmontonDining
Here's a secret tip to lock in the tasty juiciness of your roast. Watch the video below.
Big Beef BBQ Ribs.
The bbq kings…Big Beef BBQ Ribs.
Sooo tasty!.
1/2 cup soy bean sauce
2 tsp brown sugar
1/2 cup barbecue sauce
1 tsp Garlic powder
1/2 tsp Onion powder
1 Package bone or boneless country-style beef or pork ribs,Don't trim the fat.
Add all the ingredients into a old ice cream pail. Refrigerate for 12 hours.
Throw the ribs on the grill until done. Be sure to baste the ribs while they
grilling. Makes 6 servings.
Enjoy! A Finger Licking BBQ Today!
Don
The BBQ KING!
How to flavor your steamed rice.
Food Edmonton Creates Tasty Meals And You Can Too.
Food Edmonton | The Most Delicious Food in Edmonton. Click this link for the home page.
Tastiest BBQ Baked Beans You'll Ever Eat.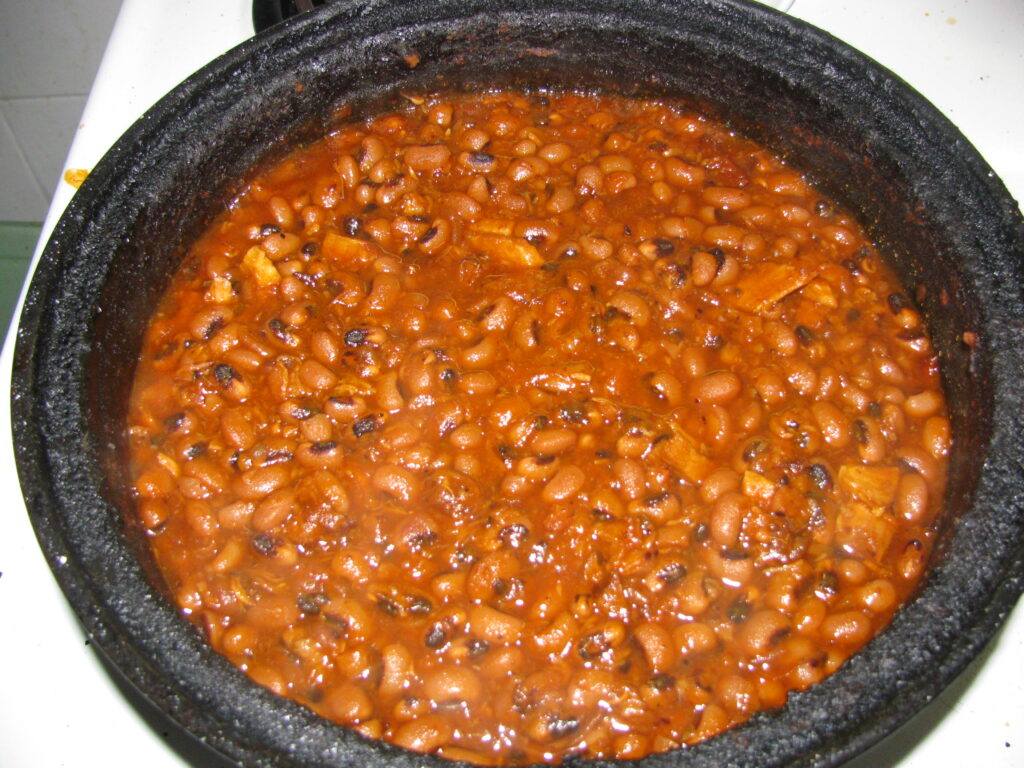 Tastiest BBQ Baked Beans You'll Ever Eat.
By: Don Reykdal… The BBQ KING! Founder of FoodEdmonton.
2 cups Black-eyed Beans
1 can tomato soup or 1/2 cup Ketchup
1 tablespoon Hickory barbecue sauce
2 Garlic cloves chopped
1/4 cup Vinegar
1/2 cup of brown sugar
1/2 cup molasses
5 oz of Ham chopped
4 slices of bacon
1 Small carrot diced
1 Small yam or sweet potato diced
1 Small onion chopped
6 Cups of water
Smoked cured Ham 5 oz, leave a little of the fat.
4 slices of bacon…ad On a broil at the end for about 5 -mins.
Add the beans to the pot… Soak for 12 hours and rinse.
Then add all the ingredients to a large pot or roasting pan add 6 Cups of water
And bring to a boil, turn the heat off, and transfer to the oven. And cook for
4.5 hrs.' up to 5.5 hrs.' at 350 degrees. Check on the hour and add 1 cup of water as needed. Thicken sauce to your liking. The longer you cook…The thicker the
sauce will become. Ad some Hot sauce if you like it Hot.
These beans go great! With BBQ RIBS.
Makes 5 to 7 servings.
Enjoy! Your family and friends are going to love you for making these tasty beans.
Your friend…
Don
The BBQ KING!
http://www.bbqsecrets.ca
Http://www.facebook.com/pages/BBQ-KING/175439452495088
http://www.foodedmonton.com
Please leave a comment and bookmark this page for more free recipes. Thanks.
Why You Should Sear Your Roast.
You should always sear your roast because it helps to lock in the juices and flavor. After you're done searing your roast then you can bake it in the oven, Once the meat is done, Then you can add your vegetables and bake a little longer.